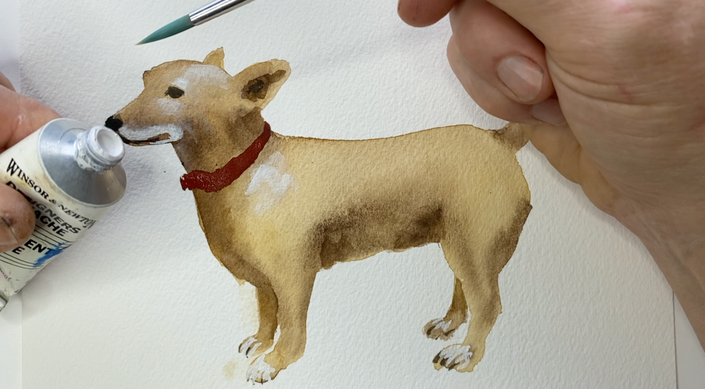 Watery Dogs and Animals
Nine fun modules to help you create alot of paintings! Beginners to Experienced
Instant Access to the Full Course

Self-paced
Lifetime Access
In this watercolour workshop, I will pull you up alongside me and we will paint some gorgeous little creatures together. There is a pretty big emphasis on dogs as everyone knows I love dogs, but you can easily transfer your passion here towards other animals, be they cats, horses, or cockatoos! Its exactly the same method. This is why I introduce some other creatures later in the workshop for you to experiment with, and at the end we just go totally nuts and invent some! The purpose of all the steps is to gradually build your confidence and you will find yourself becoming more and more brave in what you do as you apply the paint.
This is an easy workshop however an experienced artist who has not explored watercolour as an exciting medium before (often its seen by artists as a bit boring and conservative) will have a great time and no doubt carry on after they are finished in exciting original ways.
If you are a beginner, you will love this workshop. This is the kind of workshop which could set you on your way to having a nice little side hobby and I give all the details on how you can set up a tiny 'kitchen cupboard kit', to have on hand to relax with in between your other responsibilities.

By following along with my process you will learn how to take a relaxed approach to your painting ideas. As we proceed, you will see how I handle whatever comes along in the process. It is very hard to make an error with an attitude like mine! I invite you to see how I deal with the process, including how to move quickly past problems so you can keep on going and really get your works finished.

I take you through nine different exercises designed to be a kind of mini workout, where we vacillate in and out of very loose, to a bit tight. You will see how to master quite detailed 'looking' images using a rather large brush! This will knock the jeepers out of your fear of being too particular.
My style is generally pretty upbeat and I like to keep a sense of humour about the place so as not to take myself too seriously, which can lead to far too much self-judgement for my liking. Everyone knows artists are the most vigorous critics of their own work, but this is also a saboteur of a potentially abundant artist. We want you to be abundant and free to create and produce whether it be to just share with your family, or to share with the world!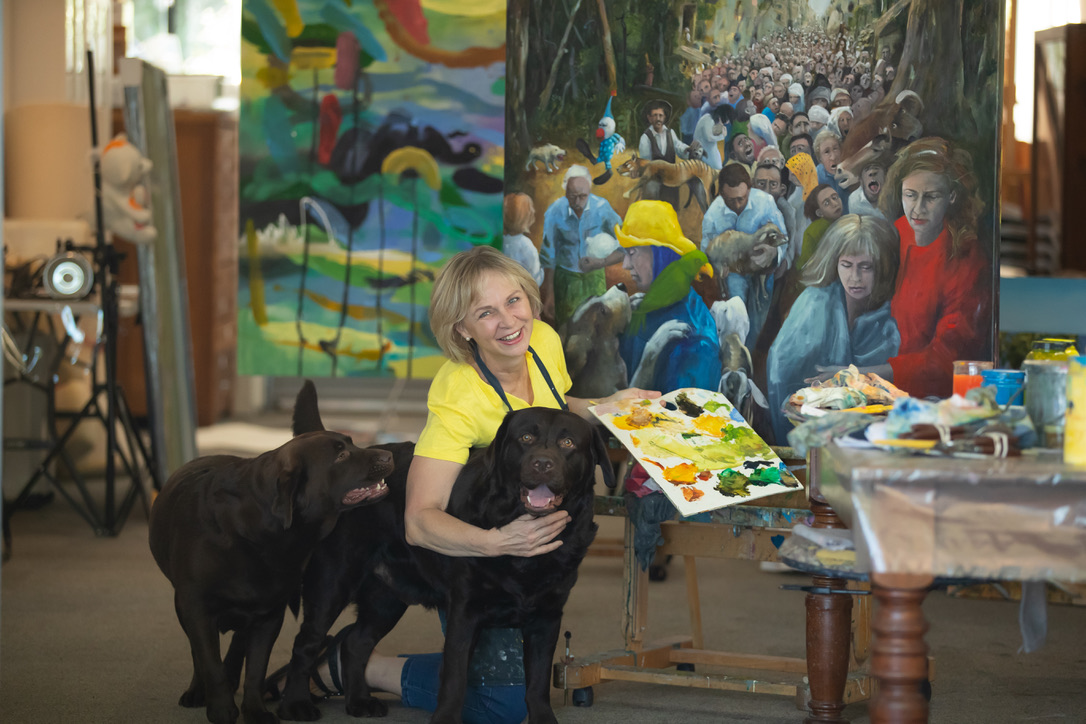 Overview of the Workshop


At the start of the workshop I give a quick run down on the materials, and then we will begin the painting exercises - all nine of them! I take you through each exercise in a deliberate manner - where you slowly build up confidence and skills through following along. Each step is about building your ability and understanding of how I use watercolour and why with many special artists tips along the way. My view is that this workshop should inspire you to keep going after completed with a new approach to any subject matter you come across, whether its in real life, a photo or from your imagination. For those speed learners, you will be pleased to know you can watch at up to two speed or on the other hand slow it down. It is just like being in a private art lesson, sitting with me.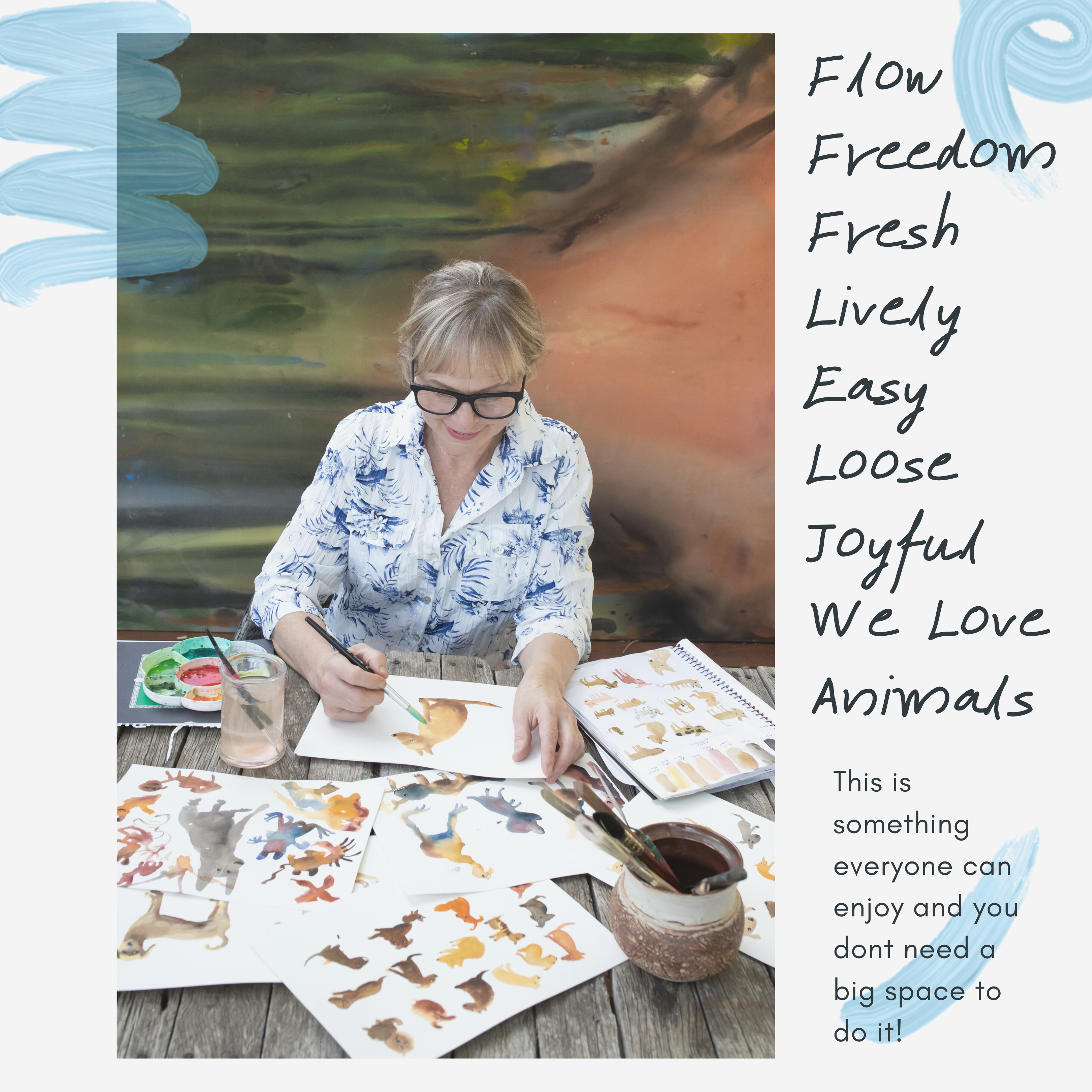 Materials Used
These are the materials I have used, but you are most welcome to bring in your own colours and brushes. You can mix and match to get your own feeling in the work. I have used mostly earthy colours in my demonstrations. You could have so much fun bringing in some wild and whacky combinations! So go for it.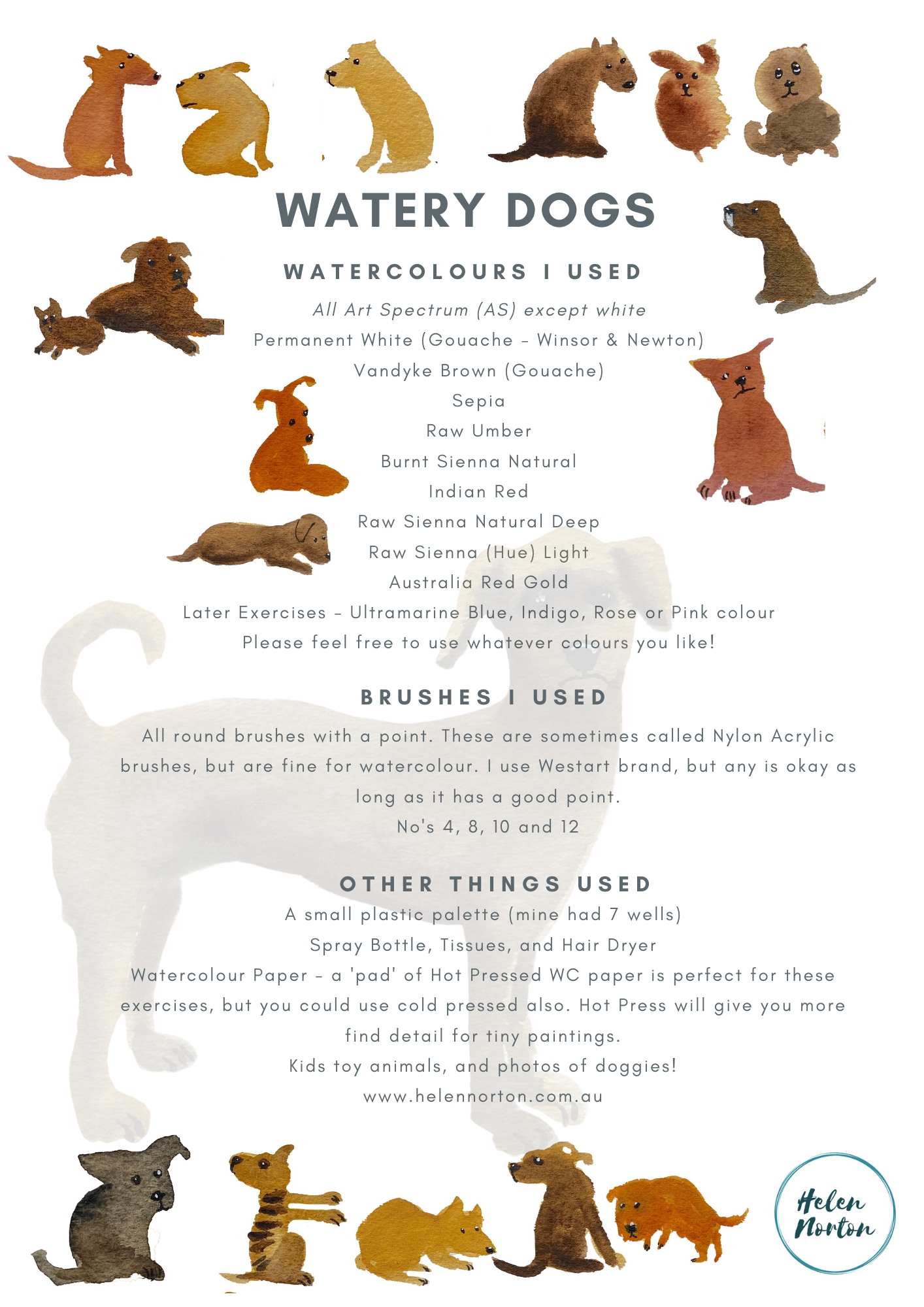 Your Instructor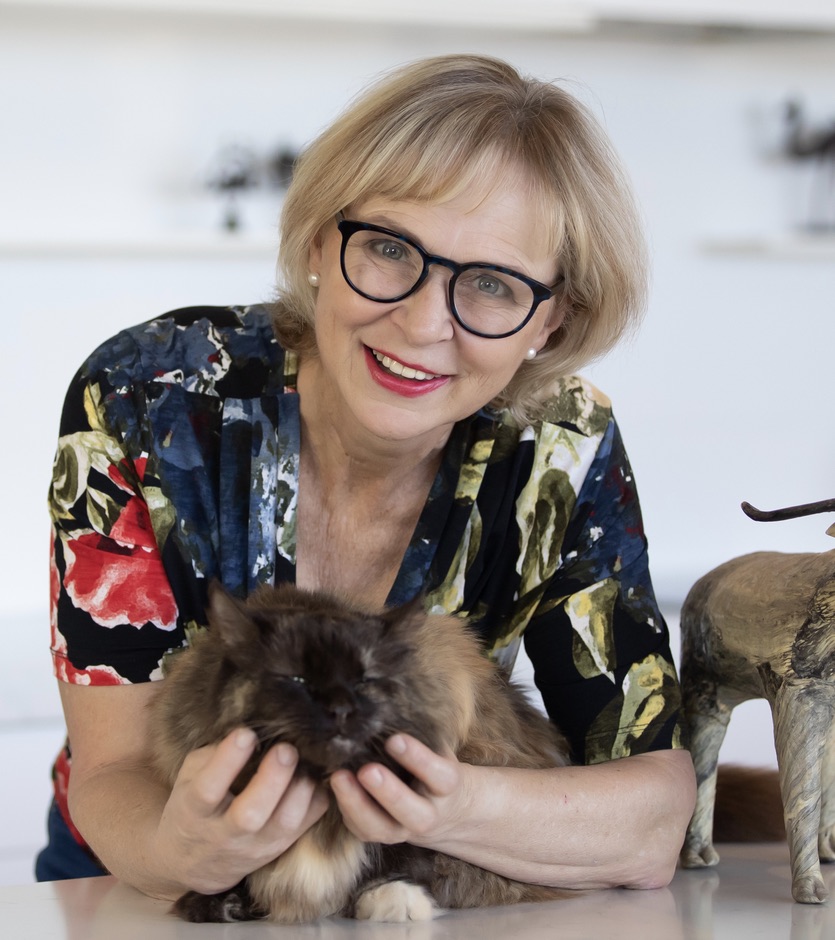 Hi, I'm Helen Norton. I am currently live in sunny Perth in West Australia. I have over three decades of a very succesful exhibiting art career behind me - including over sixty solo exhibitions under my belt. In recent years I felt a very strong urge to come out of my lovely solitude in the studio, and do something for other artists instead of just my clients who have provided me with incredible patronage to date. I still love painting, and in fact taking a dive into teaching has created a deeper love of it. However, I now feel its time to hand over the skills!
After running some very succesful live workshops, in my home state, I discovered I could make the transition from artist to teacher, which is not as easy as one would think! What I wanted was to share as far and wide as I could, not just with the locals, so thanks to technology, I can welcome you to my online courses.
I hope you will join me on a wonderful creative adventure where I can share my experience and years of learning through various courses on different aspects of the art vocation. My mission is to save you tons of time working everything out like I had to through so much trial and error, although what artists does not like exploring? I will give you my very best in tips, techniques and insights into how to paint, and also help, with how to move past blocks, and fears, and especially to build confidence. Mostly this will be pragmatic and step by step demonstration of different processes of creating artworks. I can't wait for you to pull up your easel alongside me in the studio so we can paint together!

See my full CV at this link Full CV at https://www.helennorton.com.au/pages/artists-cv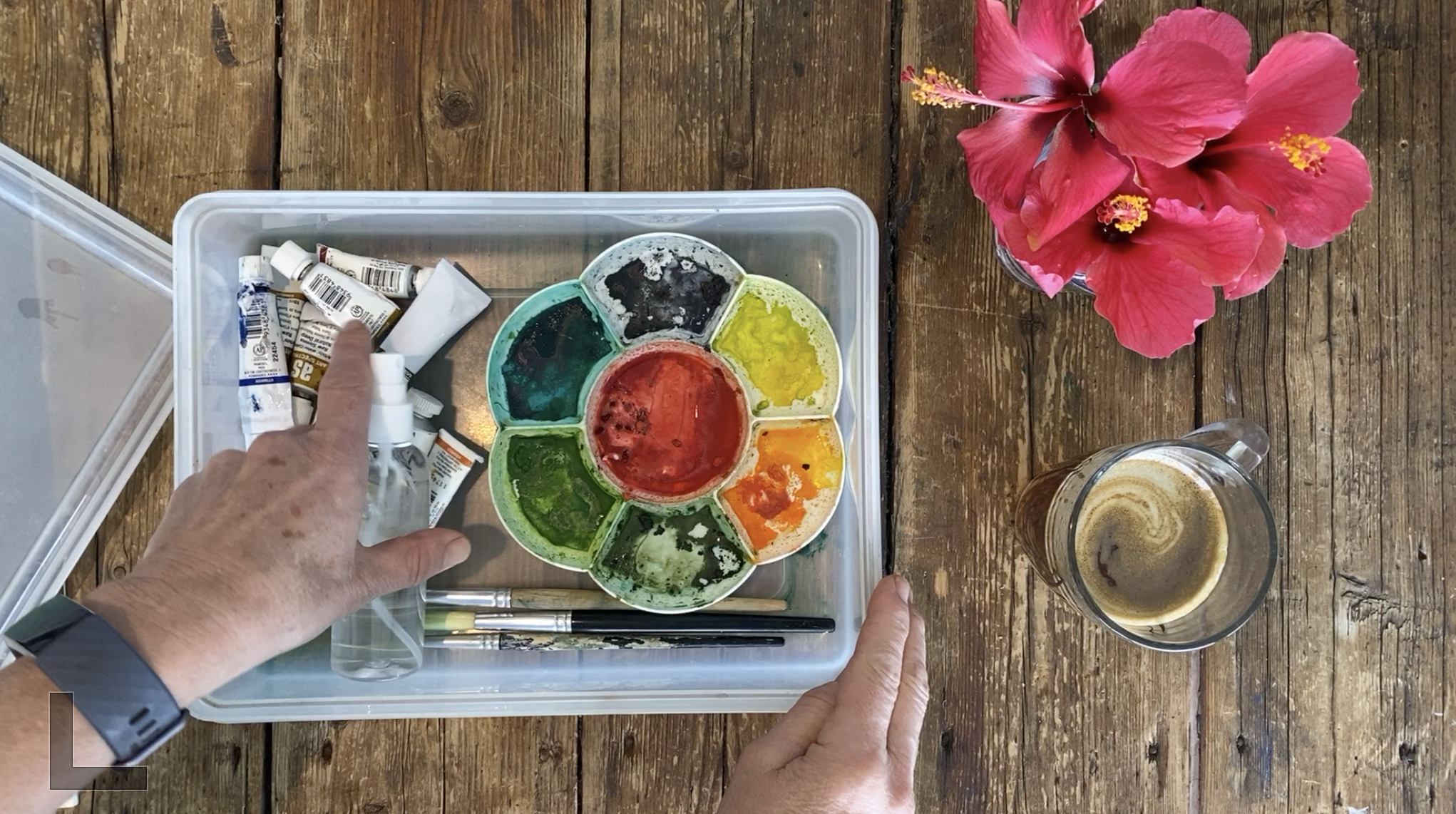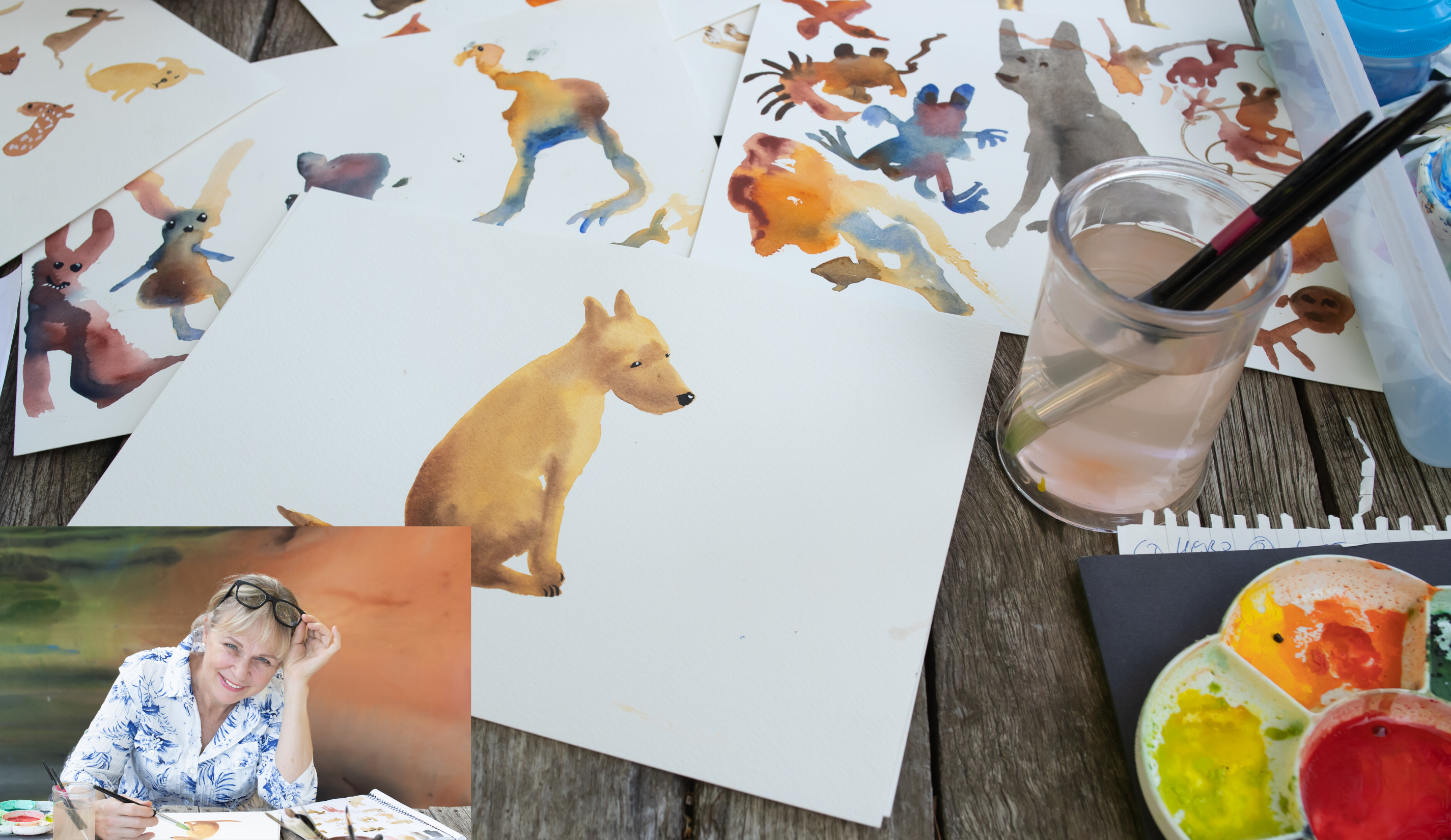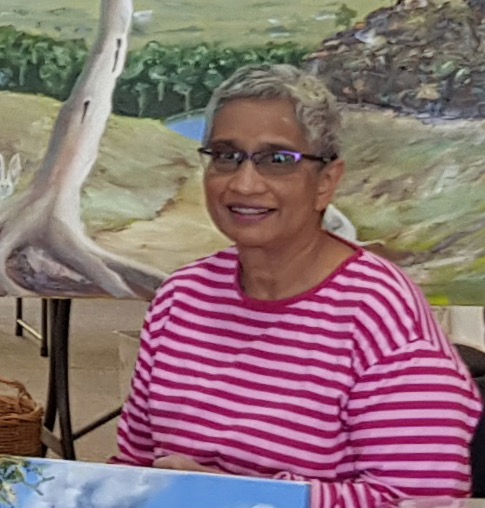 "I loved the class and Helen Norton! She's an expert at what she does and I learnt so very much. She is generous with her knowledge and hands on with help - tireless in helping us feel great about our work. I would recommend this workshop to anyone interested in developing skills. It is a serious workshop! Thank you Helen"
- Saras, Student in Helen's live workshops - Perth WA

See more testimonals here https://www.helennorton.com.au/pages/testimonials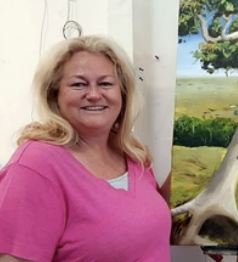 "I had not painted or experienced any learning in painting before. I enjoyed every minute. My learning was validated, my self curiosity about what I could do was achieved. I am eager to do more workshops with Helen, so I can build on my knowledge BUT most of all have fun, be absorbed in creativity and have a painting to take home - what more could you ask!"
- Helen, Student in Helen's live workshops - Perth WA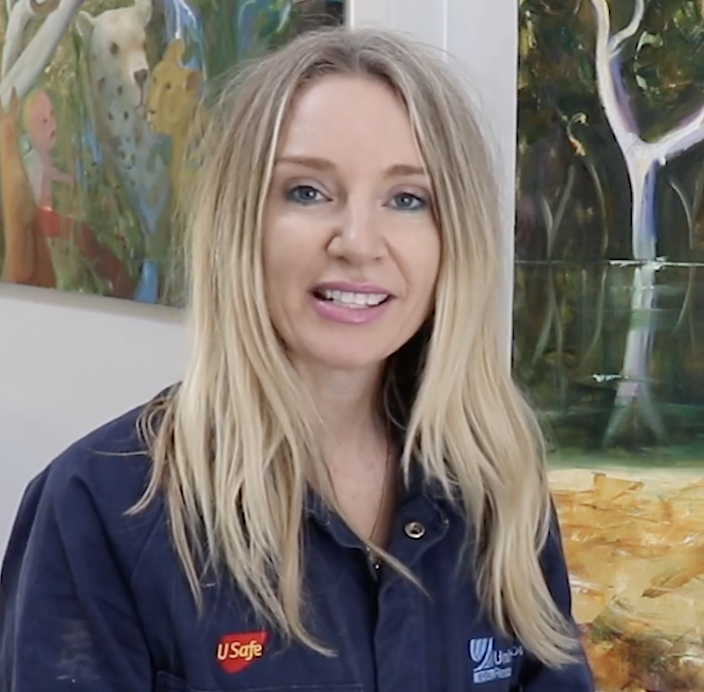 "I've been an artist for many years, but Helen's taught me things that I didn't know or had forgotten, but she got me back to some of the basics again. It was a really great refreshing experience - as she showed me how to tackle things in my work in a completely different way to how I was doing it. So good, so inspiring!"
- Joanne, Student in Helen's live workshops - Perth WA
Frequently Asked Questions
When does the course start and finish?
The course starts now and never ends! It is a completely self-paced online course - you decide when you start and when you finish.
How long do I have access to the course?
How does lifetime access sound? After enrolling, you have unlimited access to this course for as long as you like - across any and all devices you own.
What level of art experience is the course made for?
This course is suitable for anyone from a beginner who has never painted to an advanced artist. Many of my students in my live workshops would come in at these opposite extremes and yet they all gained much from the workshops. Even I love doing other artist's workshops, despite my experience. It is so refreshing and always brings some new exciting inspiration.
Do I need high speed internet for the course?
Yes, you will need a good internet connection to view or download the video content for this course. If you have slower speeds you can still watch but may have some lagging.
Is there an online community I can join for this course?
Yes, I have a very special private Facebook group for my students set up. I will provide details of how to submit a request to join the Helen Norton Art Lessons Facebook Community within the course. The community offers a wonderful opportunity to share and connect with other like-minded folks. You can share your inspired paintings, with us all! You can also use the hashtag #helennortonartclasses on Instagram and other social media such as FB, Pinterest and Twitter. There is also a comments section in each module and lesson where you can share your in-progress work and questions about the workshop, lessons or classes.
Do I need to use the materials you have listed?
You do need to use watercolour for this workshop, but you can use different colours. I have chosen an array of earthy colours for my demonstration and they are what I have listed in the PDF. My list is just a suggestion. On brushes, you do need to get the type of brush I have listed and they must have a decent point or you won't get the desired results. If you are just giving painting a whirl and would prefer not to spend too much, you can most certainly use student grade everything but as we know, you will get better results especially in art, with better quality materials and brushes.
What is your refund policy?
Once you are enrolled in a course I am unable to offer a refund as you have full access to all the content upon paying. If you have any concerns prior to enrolling please reach out to me so I can give you more information if needed to help you decide on committing 🙂