Instant Access to the Full Course
Self-paced
Lifetime Access
In this watercolour workshop, I will guide you through how to paint a large (scaled up) animal portrait in watercolour using gridding in the initial stages in order to get an accurately proportioned end result without having to learn major drawing skills. To demonstrate I use a photo of my favourite furry boy, George, my chocolate labrador. You can also paint George along with me, (he would be flattered!) or you can choose a photo of your own pet or favourite animal to grid up and paint. You can even apply the method to human portraits.
Many professional artists going back thousands of years used gridding as a pragmatic way to scale up their carefully planned drawings into huge scale! Indeed, it's still the go-to method for many mural makers. Lets just smash the myth that you cannot use tools to achieve your end goals because its not 'pure'. Many fine artists/draftspersons who might draw perfect and detailed sketches in their sketch book will use a grid or a projector to transfer it to a large scale canvas because it simply takes too much time to redraw from scratch, and is almost impossible due to our inability to retain perspective in large scale.
So together let's stop the pretending and mystery around how to do it and roll up our sleeves and get it done easily with step by step instructions so that we can move on to create a powerful and simple portrait of your favourite animal.
And that is the end goal - to get to the painting process in a state of high confidence about our underlying drawing. We will then use flowing and free big brush watercolour in a way that smashes all the ideas of it being a 'conservative and boring' medium. You will be surprised at how a strong foundation can give you so much freedom when you start to paint.
This workshop is suitable for any level - from professional to beginner as most of my workshops are. I believe as a long time artist I can learn and grow from other artists all the time despite my thirty years in the industry, therefore so can you if you are an established artist. If you are a beginner, you will love this workshop because quite simply you will be able to do it!
My style of teaching is casual but directed at your maximum learning, therefore I do not hold back on anything as I go. The way I paint includes understanding 'the nature of paint' and when you do, you know that it has its own mind therefore that is part of how I teach, with this understanding. To be creative in my view is to 'be creative' and to stay open to what comes along as we go. We 'go with the flow' literally and there are always great rewards. For those who like a more regimented approach you will find that the steps are all very clear as well!
Come on and join me and let's see if you can knock the socks off of your family or doubting relatives with a stunning portrait of your animal. 😄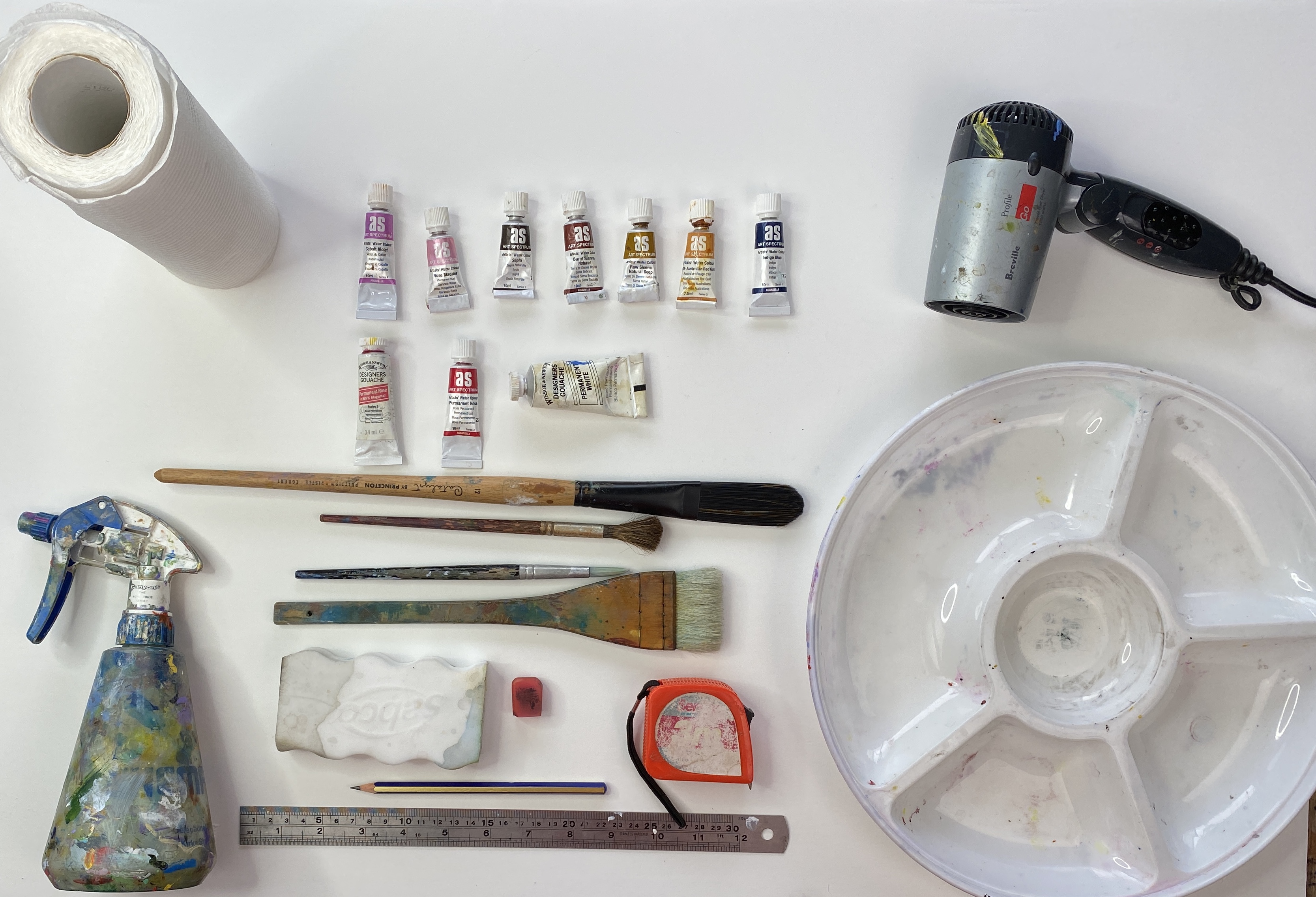 Overview of the Workshop
We begin with a quick run down of the materials you will be using so you have a better understanding of why I used certain things in this workshop. Then we move onto the more technical part of gridding up. I have provided very detailed instruction for you in the videos and a downloadable sheet. We will then draw up the subject. Then its time to load up our palettes so we can begin the fun!

I will take you through every step of the painting process I use, including how to capture beautiful detail in the eyes. You will learn how to be loose and at the same time create a crisp focal point where it matters. As always the idea of my teaching is to enable you with a real skill in an area of painting so you can then head off and experiment later on and create your own unique artworks.

In this workshop I have created two versions of the same workshop so you can work with the one that most suits your learning style. One version is narrated by myself so you can keep abreast of what is going through my head as I paint, and the other contains captions with key points only, and is backed with music (no talking! - please top smiling) 😆 so you can 'turn me off' if you wish!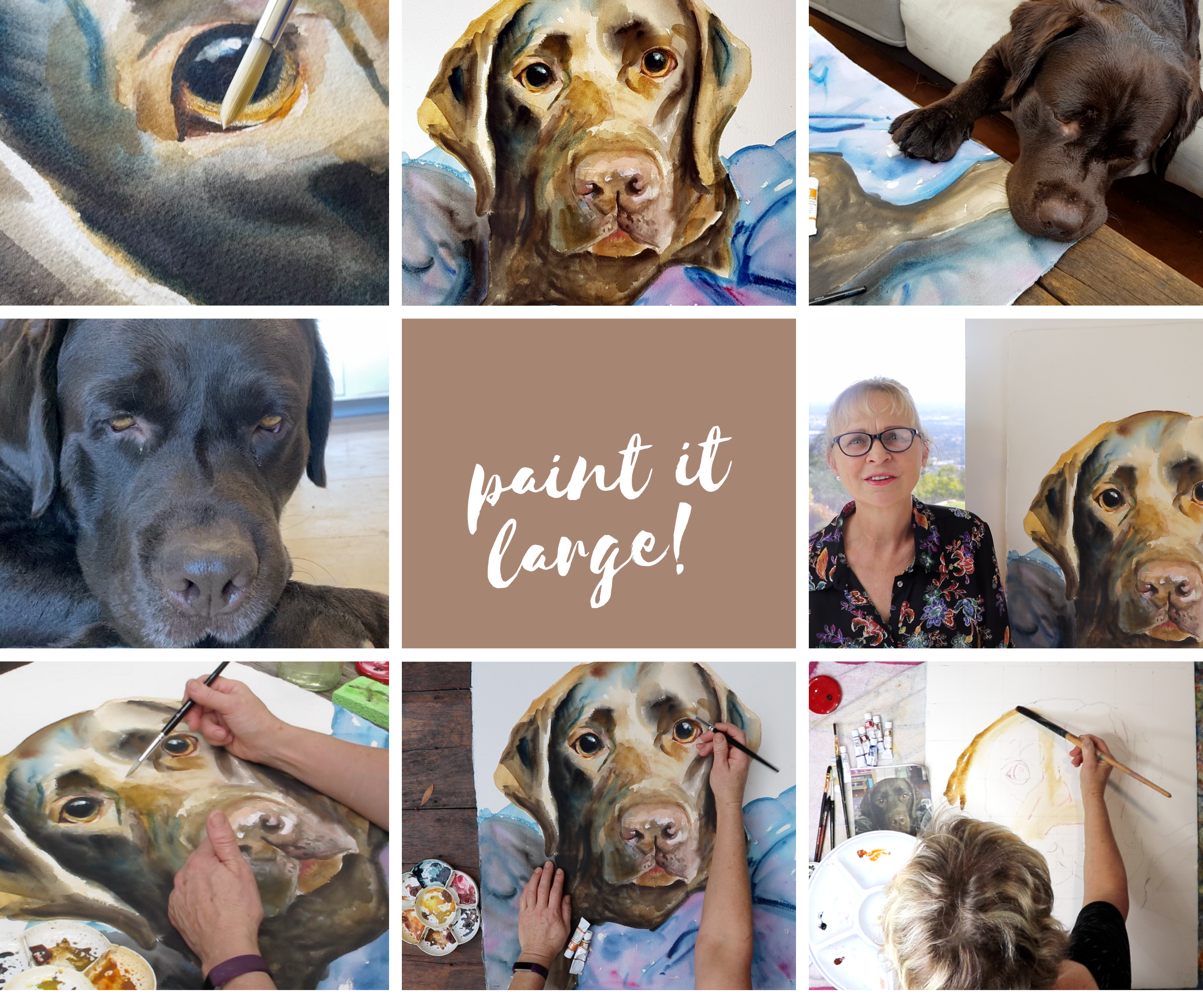 Materials Used
These are the materials I have used, but you are most welcome to bring in your own colours and brushes. You can mix and match to get your own feeling in the work or refer to the colours you observe in your chosen subject.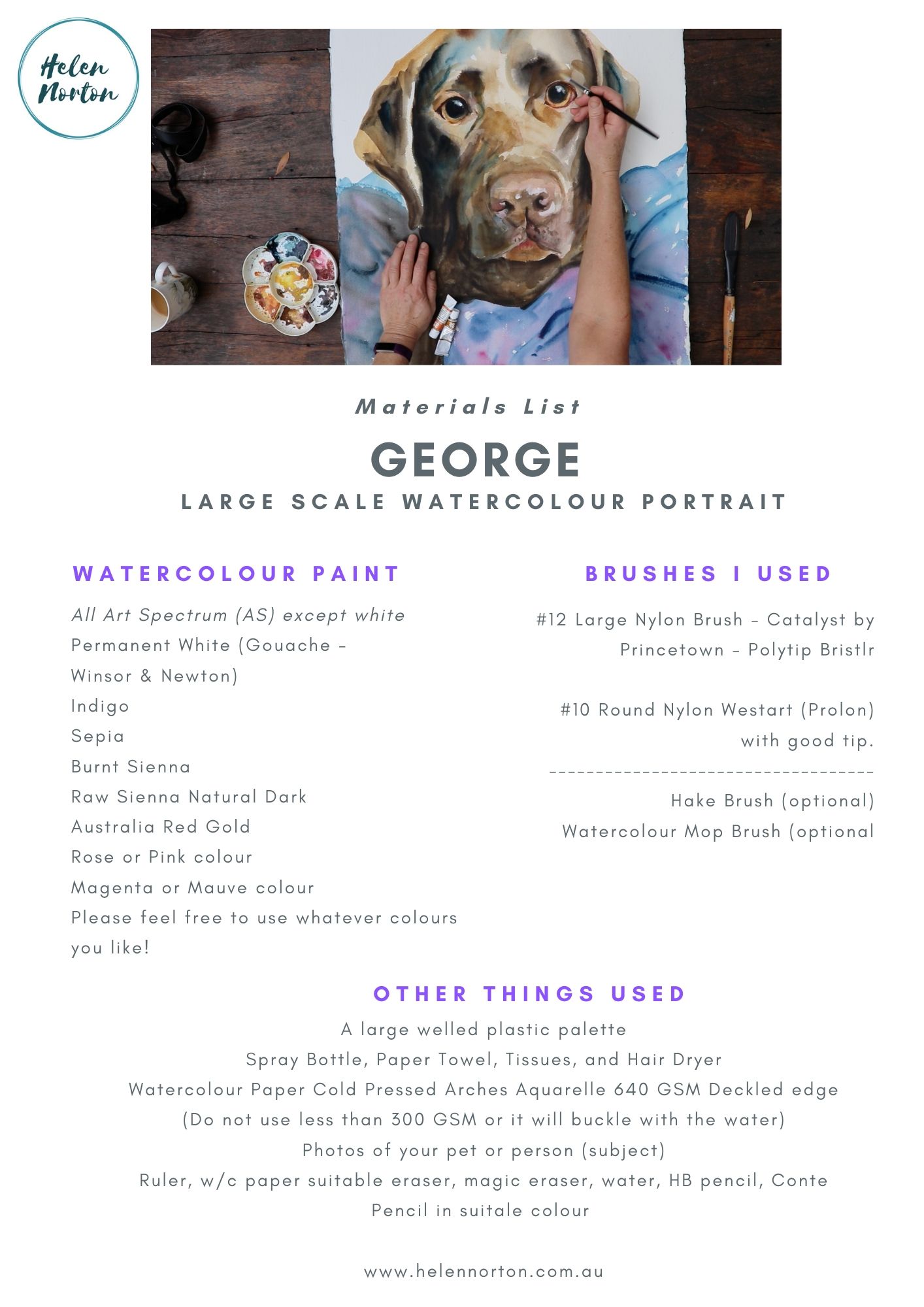 Your Instructor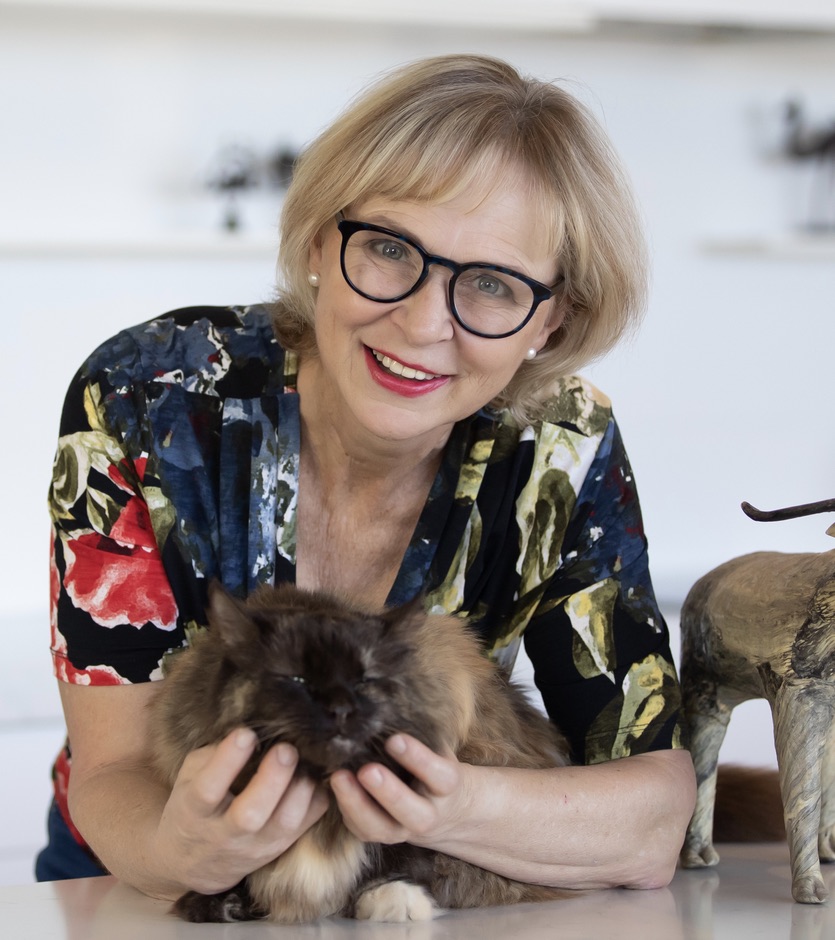 Hi, I'm Helen Norton. I am currently live in sunny Perth in West Australia. I have over three decades of a very succesful exhibiting art career behind me - including over sixty solo exhibitions under my belt. In recent years I felt a very strong urge to come out of my lovely solitude in the studio, and do something for other artists instead of just my clients who have provided me with incredible patronage to date. I still love painting, and in fact taking a dive into teaching has created a deeper love of it. However, I now feel its time to hand over the skills!
After running some very succesful live workshops, in my home state, I discovered I could make the transition from artist to teacher, which is not as easy as one would think! What I wanted was to share as far and wide as I could, not just with the locals, so thanks to technology, I can welcome you to my online courses.
I hope you will join me on a wonderful creative adventure where I can share my experience and years of learning through various courses on different aspects of the art vocation. My mission is to save you tons of time working everything out like I had to through so much trial and error, although what artists does not like exploring? I will give you my very best in tips, techniques and insights into how to paint, and also help, with how to move past blocks, and fears, and especially to build confidence. Mostly this will be pragmatic and step by step demonstration of different processes of creating artworks. I can't wait for you to pull up your easel alongside me in the studio so we can paint together!

See my full CV at this link Full CV at https://www.helennorton.com.au/pages/artists-cv


Course Curriculum
BONUS MODULE - Same full workshop with just MUSIC and CAPTIONS (I'm not talking!)
Available in days
days after you enroll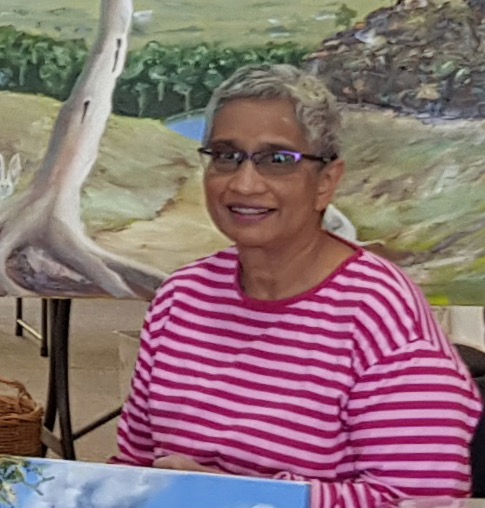 "I loved the class and Helen Norton! She's an expert at what she does and I learnt so very much. She is generous with her knowledge and hands on with help - tireless in helping us feel great about our work. I would recommend this workshop to anyone interested in developing skills. It is a serious workshop! Thank you Helen"
- Saras, Student in Helen's live workshops - Perth WA

See more testimonals here https://www.helennorton.com.au/pages/testimonials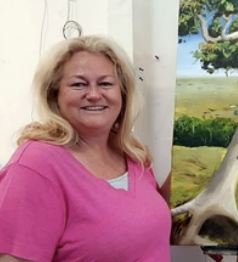 "I had not painted or experienced any learning in painting before. I enjoyed every minute. My learning was validated, my self curiosity about what I could do was achieved. I am eager to do more workshops with Helen, so I can build on my knowledge BUT most of all have fun, be absorbed in creativity and have a painting to take home - what more could you ask!"
- Helen, Student in Helen's live workshops - Perth WA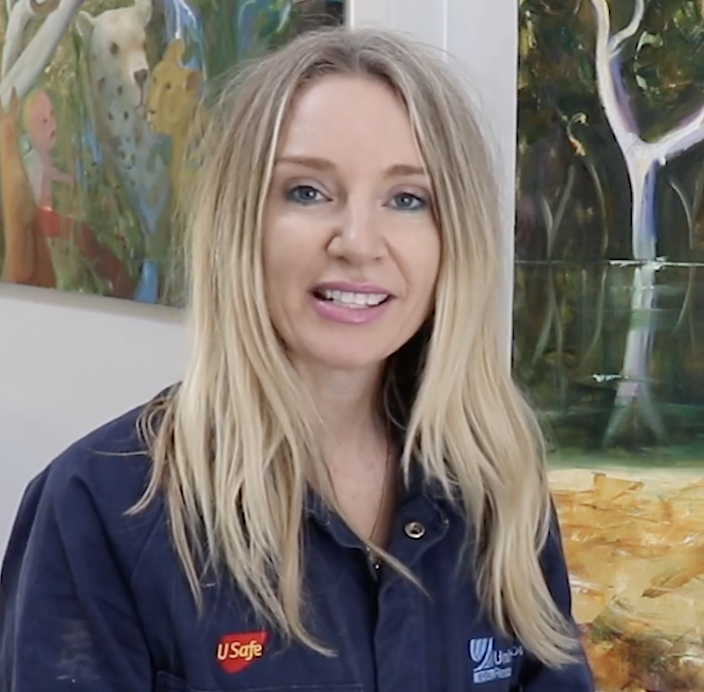 "I've been an artist for many years, but Helen's taught me things that I didn't know or had forgotten, but she got me back to some of the basics again. It was a really great refreshing experience - as she showed me how to tackle things in my work in a completely different way to how I was doing it. So good, so inspiring!"
- Joanne, Student in Helen's live workshops - Perth WA
Frequently Asked Questions
When does the course start and finish?
The course starts now and never ends! It is a completely self-paced online course - you decide when you start and when you finish.
How long do I have access to the course?
How does lifetime access sound? After enrolling, you have unlimited access to this course for as long as you like - across any and all devices you own.
What level of art experience is the course made for?
This course is suitable for anyone from a beginner who has never painted to an advanced artist. Many of my students in my live workshops would come in at these opposite extremes and yet they all gained much from the workshops. Even I love doing other artist's workshops, despite my experience. It is so refreshing and always brings some new exciting inspiration.
Do I need high speed internet for the course?
Yes, you will need a good internet connection to view or download the video content for this course. If you have slower speeds you can still watch but may have some lagging.
Is there an online community I can join for this course?
Yes, I have a very special private Facebook group for my students set up. I will provide details of how to submit a request to join the Helen Norton Art Lessons Facebook Community within the course. The community offers a wonderful opportunity to share and connect with other like-minded folks. You can share your inspired paintings, with us all! You can also use the hashtag #helennortonartclasses on Instagram and other social media such as FB, Pinterest and Twitter. There is also a comments section in each module and lesson where you can share your in-progress work and questions about the workshop, lessons or classes.
Do I need to use the materials you have listed?
You do need to use watercolour for this workshop, but you can use different colours. I have chosen an array of earthy colours for my demonstration and they are what I have listed in the PDF. My list is just a suggestion. On brushes, you do need to get the type of brush I have listed and they must have a decent point or you won't get the desired results. If you are just giving painting a whirl and would prefer not to spend too much, you can most certainly use student grade everything but as we know, you will get better results especially in art, with better quality materials and brushes.
What is your refund policy?
Once you are enrolled in a course I am unable to offer a refund as you have full access to all the content upon paying. If you have any concerns prior to enrolling please reach out to me so I can give you more information if needed to help you decide on committing 🙂