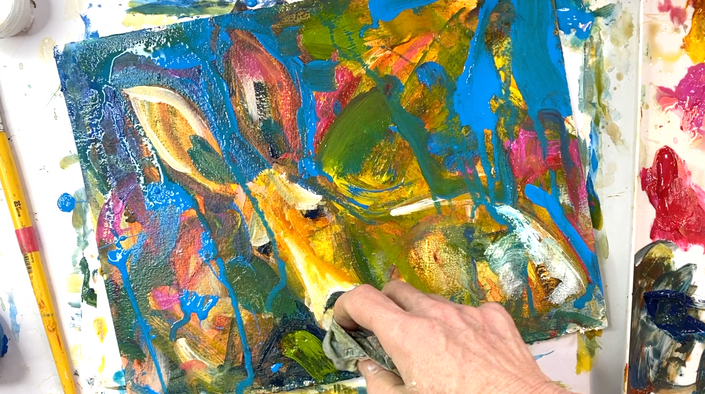 PAINT 3 ACRYLIC PAINTINGS - EXPRESSIVE FAST FLOWERS, ANIMALS & ABSTRACTS
Learn how to be abundant and creative in one amazing painting session. Beginners to Experienced
Watch Promo
(PRICES ARE SHOWN IN AUD)
Overview of the Workshop


In this workshop which is suitable for ANY stage of experience from absolute beginner to fabulously genius painter extraordinaire - the intention is to work fairly fast and loose.
Maybe you have always wanted an excuse to just go a bit nuts and paint like a mad thing rather than getting stuck in every single brush stroke, fearing it is 'the wrong one'. Well this is the workshop where you can cut loose and just do it.

It's all about not getting stuck in too much self judgment. The idea is to move from one painting to the next before the painting is completed so that you can stop yourself from losing sight of the bigger picture and the feeling of each painting. We have a little break from painting one painting before its finished and move onto another one, so we are refreshed when we return again. It's a bit like musical chairs! This is a great method for not getting too attached to one work. How easy is it to go down the rabbit hole of obsession over one painting, pecking away at it for hours to no avail or even for it to become worse!

Despite the seemingly scattered and random nature of this bouncing about from one work to another - there is a method in the madness that is applied to each work. The shifting of subjects is deliberate. Of course if this just makes you dizzy, you can work on one painting at a time, by jumping to the specific modules of one subject, however, why not challenge ourselves to be a truly abundant creation machines!
As you spread your skills across three subjects you will become familiar with the paint, and the movement of painting faster and also looser. You will get surprises! You will build confidence this way or just have a great time 'making making real stuff, real art'. The great thing is, we end up creating three stunning works that we can truly call our own - in the same time as we may have painted one! And yes you can choose your own subjects or you can follow along with mine.
I completed all three paintings in just over an hour and a half, so it wont take long - even if you allow yourself another hour or two, but not too long remember as this is about being loose and free.
Imagine that, imagine in the two hours you may have spent looking at cute cat videos (no wait ... I love those) - what about just flicking through social media mindlessly - to no avail. Instead there you have a small collection of paintings in front of you. Amazing! You can do it!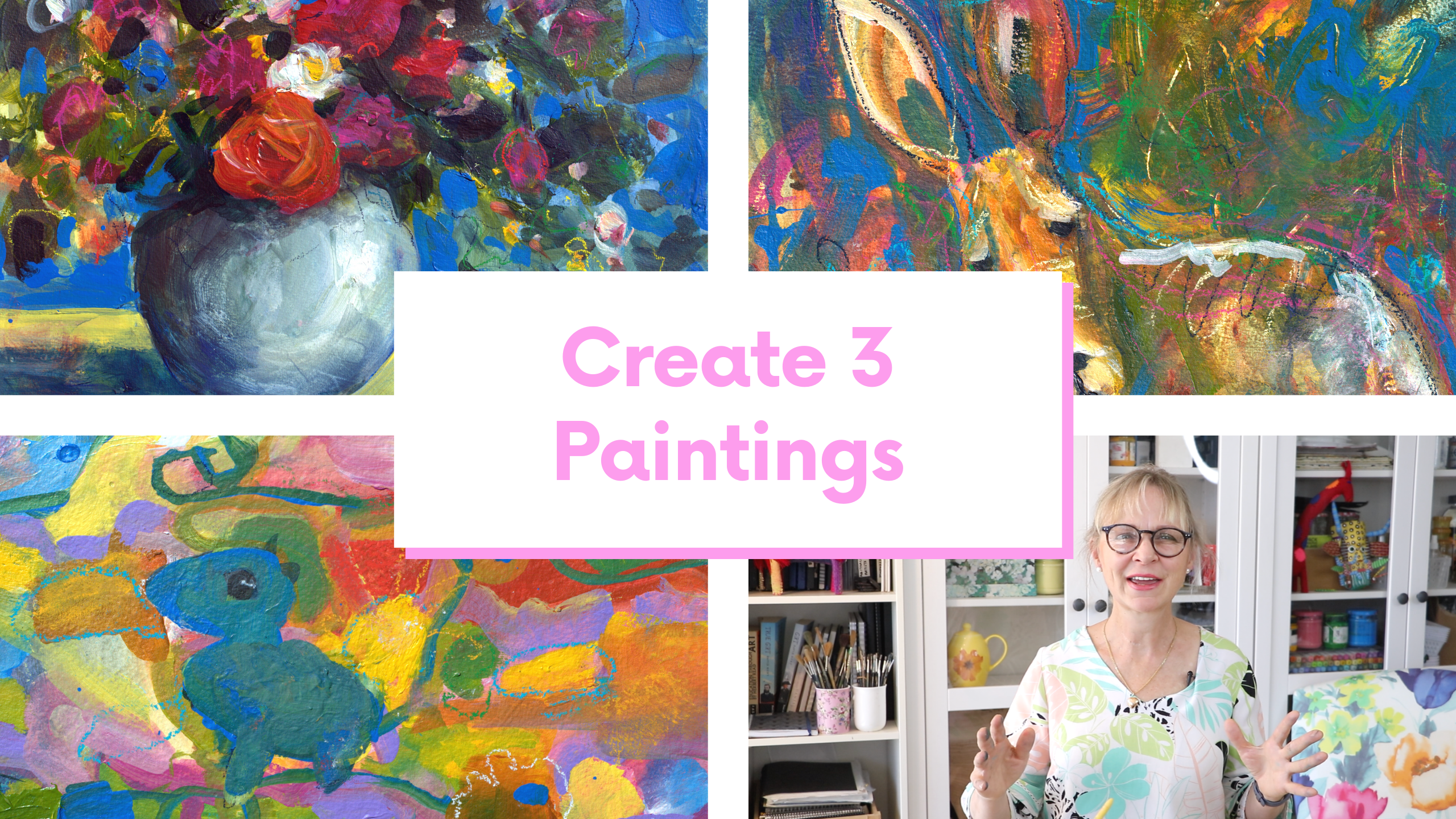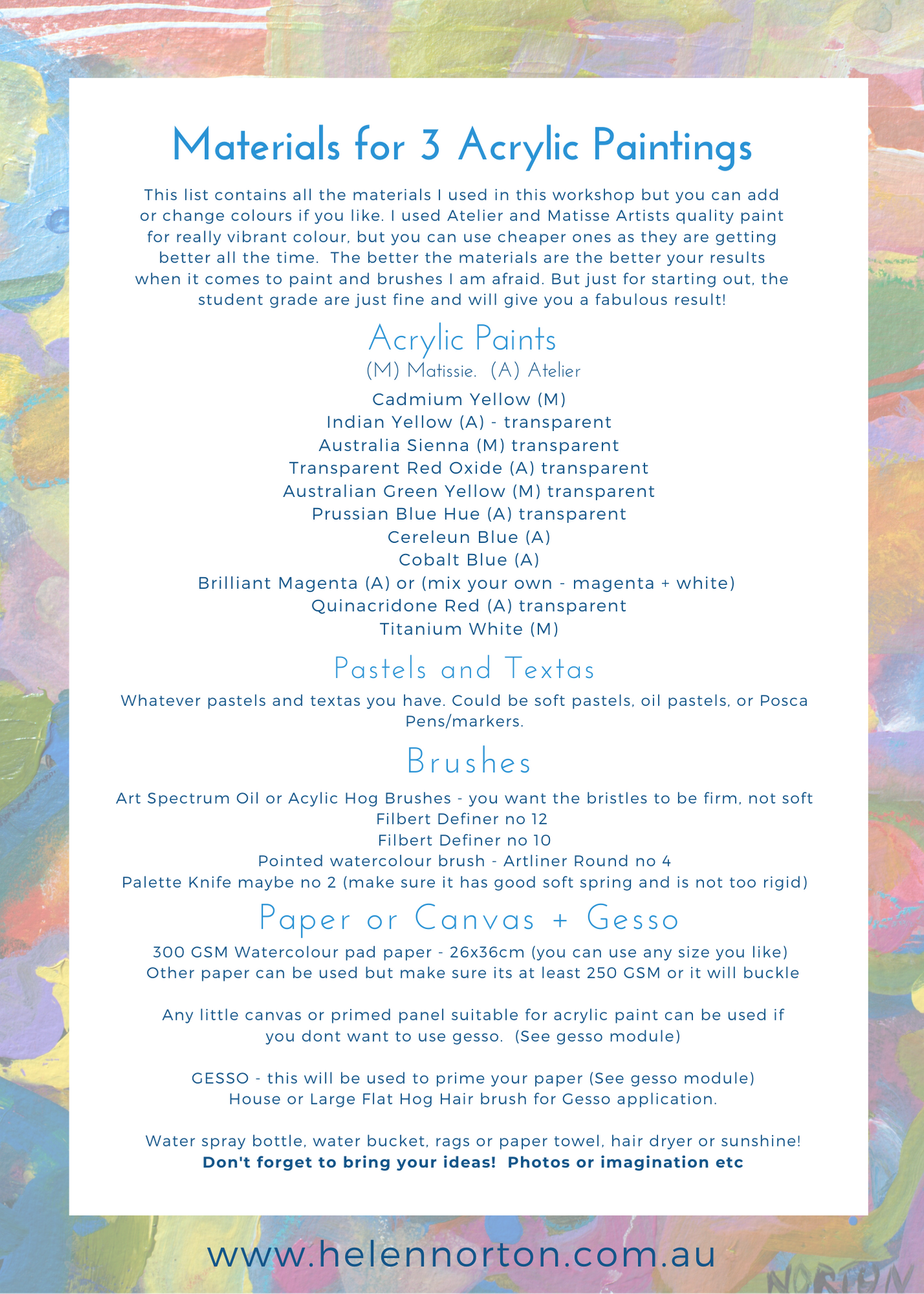 Your Instructor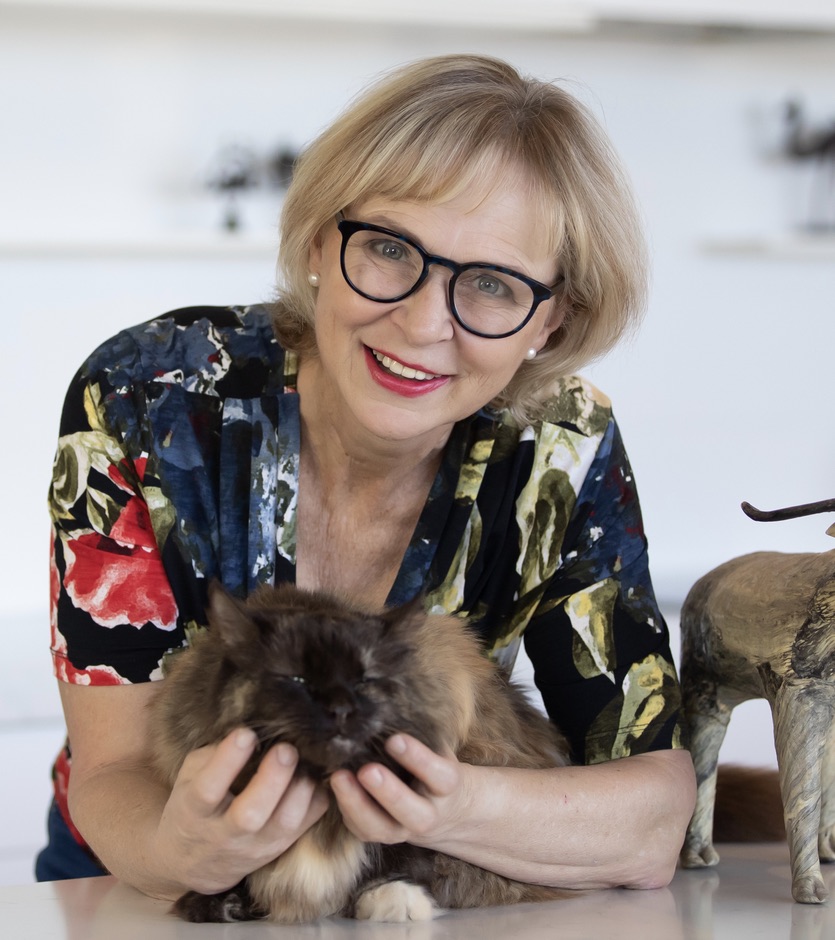 Hi, I'm Helen Norton. I am currently live in sunny Perth in West Australia. I have over three decades of a very succesful exhibiting art career behind me - including over sixty solo exhibitions under my belt. In recent years I felt a very strong urge to come out of my lovely solitude in the studio, and do something for other artists instead of just my clients who have provided me with incredible patronage to date. I still love painting, and in fact taking a dive into teaching has created a deeper love of it. However, I now feel its time to hand over the skills!
After running some very succesful live workshops, in my home state, I discovered I could make the transition from artist to teacher, which is not as easy as one would think! What I wanted was to share as far and wide as I could, not just with the locals, so thanks to technology, I can welcome you to my online courses.
I hope you will join me on a wonderful creative adventure where I can share my experience and years of learning through various courses on different aspects of the art vocation. My mission is to save you tons of time working everything out like I had to through so much trial and error, although what artists does not like exploring? I will give you my very best in tips, techniques and insights into how to paint, and also help, with how to move past blocks, and fears, and especially to build confidence. Mostly this will be pragmatic and step by step demonstration of different processes of creating artworks. I can't wait for you to pull up your easel alongside me in the studio so we can paint together!

See my full CV at this link Full CV at https://www.helennorton.com.au/pages/artists-cv


Frequently Asked Questions
When does the course start and finish?
The course starts now and never ends! It is a completely self-paced online course - you decide when you start and when you finish.
How long do I have access to the course?
How does lifetime access sound? After enrolling, you have unlimited access to this course for as long as you like - across any and all devices you own.
What level of art experience is the course made for?
This course is suitable for anyone from a beginner who has never painted to an advanced artist. Many of my students in my live workshops would come in at these opposite extremes and yet they all gained much from the workshops. Even I love doing other artist's workshops, despite my experience. It is so refreshing and always brings some new exciting inspiration.
Do I need high speed internet for the course?
Yes, you will need a good internet connection to view or download the video content for this course. If you have slower speeds you can still watch but may have some lagging.
Is there an online community I can join for this course?
Yes, I have a very special private Facebook group for my students set up. I will provide details of how to submit a request to join the Helen Norton Art Lessons Facebook Community within the course. The community offers a wonderful opportunity to share and connect with other like-minded folks. You can share your inspired paintings, with us all! You can also use the hashtag #helennortonartclasses on Instagram and other social media such as FB, Pinterest and Twitter. There is also a comments section in each module and lesson where you can share your in-progress work and questions about the workshop, lessons or classes.
Do I need to use the materials outlined in this course?
You do need to use acrylic paint for this workshop, but you can use different colours. My list is just a suggestion. On brushes, you do need to get the type of brush I have listed if you want to get the desired results. If you are just giving painting a whirl and would prefer not to spend too much, you can most certainly use student grade everything but as we know, you will get better results especially in art, with better quality materials and brushes. If on a budget just try to get one good no 12 filbert as listed. A bigger brush will be better and you can use some other cheaper ones to get started. You will soon see the difference. Note there are many transparent colours in the list I used and these give a special effect so try to get similar colours or at least transparency.
What is your refund policy?
Once you are enrolled in a course I am unable to offer a refund as you have full access to all the content upon paying. If you have any concerns prior to enrolling please reach out to me so I can give you more information if needed to help you decide on committing 🙂