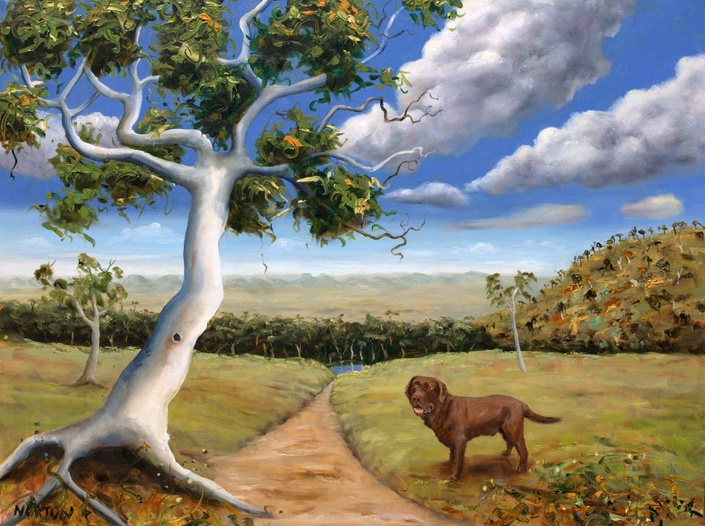 LANDSCAPE IN OILS WITH AN ANIMAL - OPEN NOW
Every Step to Create a Large Landscape Painting in Oil Paint with An Animal of Your Choice
Watch Promo
Enroll in Course
SUITABLE FOR BEGINNERS OR EXPERIENCED PAINTERS

The Landscape in Oils workshop is designed to take you through the entire process of how to paint an oil painting of a landscape step by step. I designed this course so that anyone can do it and get good results. What motivated me was that I had to be able to show absolute beginners alongside more experienced artists how to get there. This is just one way I paint landscapes. There are so many different approaches.
The method is designed to get you there fairly quickly and at the same time have you use different tools, processes and materials along the way so you can amplify your skills. Many of my students came into this live workshop saying they had not painted since in high school, or some of the intermediate painters said they had only used oils sometime - a long time ago! 80% of the students had never used oils. As a result of the workshops I found out what areas were difficult for my students and what needed more transparency and I have amplified these areas of learning in this online workshop version. We even start with acrylic paints as an underpainting to shorten the time of waiting to get started. As I said, I use many other methods to paint landscapes but this way will get you there surprisingly fast.
My live students did the workshop over 2 intensive days at my studio and despite our sometimes extended tea breaks 😄 we got finished with our own personal animal under the tree before they went home!

The process involves a fairly limited palette that in this case is based on a 'nowhere in particular' landscape but it did feature a lovely blue sunny sky, token huge cumulis clouds, a metaphorical ghost gum, and a pretend distance, mid ground and foreground. All features of our imagination which are designed to be tweaked at your pleasure to suit your location! I did not use realistic detail in the foliage deliberately - choosing instead to go for the impression and joyful use of the mediums and oils to let them do the talking! This is all about method and learning to be comfortable with pushing oil paint in conjunction with certain mediums to see what you can do.

On the animal, you are most welcome to bring that little critter into your work in whatever way you like. Some students drew their animal in a freehand and fun (exagerated character style), while others gridded up so they got the basic shapes and scale correct (we talk about arists licence on this), and others projected their animal on. The key point was NOT to get too detailed in this process as we would lose the plot and fall down the minutia trap. So more lessons here on how to 'get that painting done' by avoiding such traps.

This is a power packed workshop. Roll up your sleeves, take a deep breath and you can get a large painting done as a result! Tweaks and creativityare welcome (colour changes etc). I loved seeing the artists in the room with their wonderful rebellious independance breaking free as they added other gorgeous colours to their works, to better reflect and serve their inner creative. I loved the design sensibility of one artist who painted her cat super large and magnificent in the foreground totally smashing rules of proportion.
The thing is, if you are just learning you may not want to do this as you follow along exactly behind me, it depends on your learning style. Despite my wacky independant thinking nature, when I learn from someone I like to take every step they are taking, to literally crawl into their skin so I can understand what their basics are - to learn the 'method', the skill. Its only later that I branch out on my own expressions.
The point is, you can of course follow your own tangents, callings and feelings in this workshop. As long as you extract an improvement in your own critical 'mechanical' (do it skills) arty knowledge, I will be very happy!

PS a groovy little addition for those who like to work without all the talking, I have put in an option for you to turn on CAPTIONS in the videos. :-)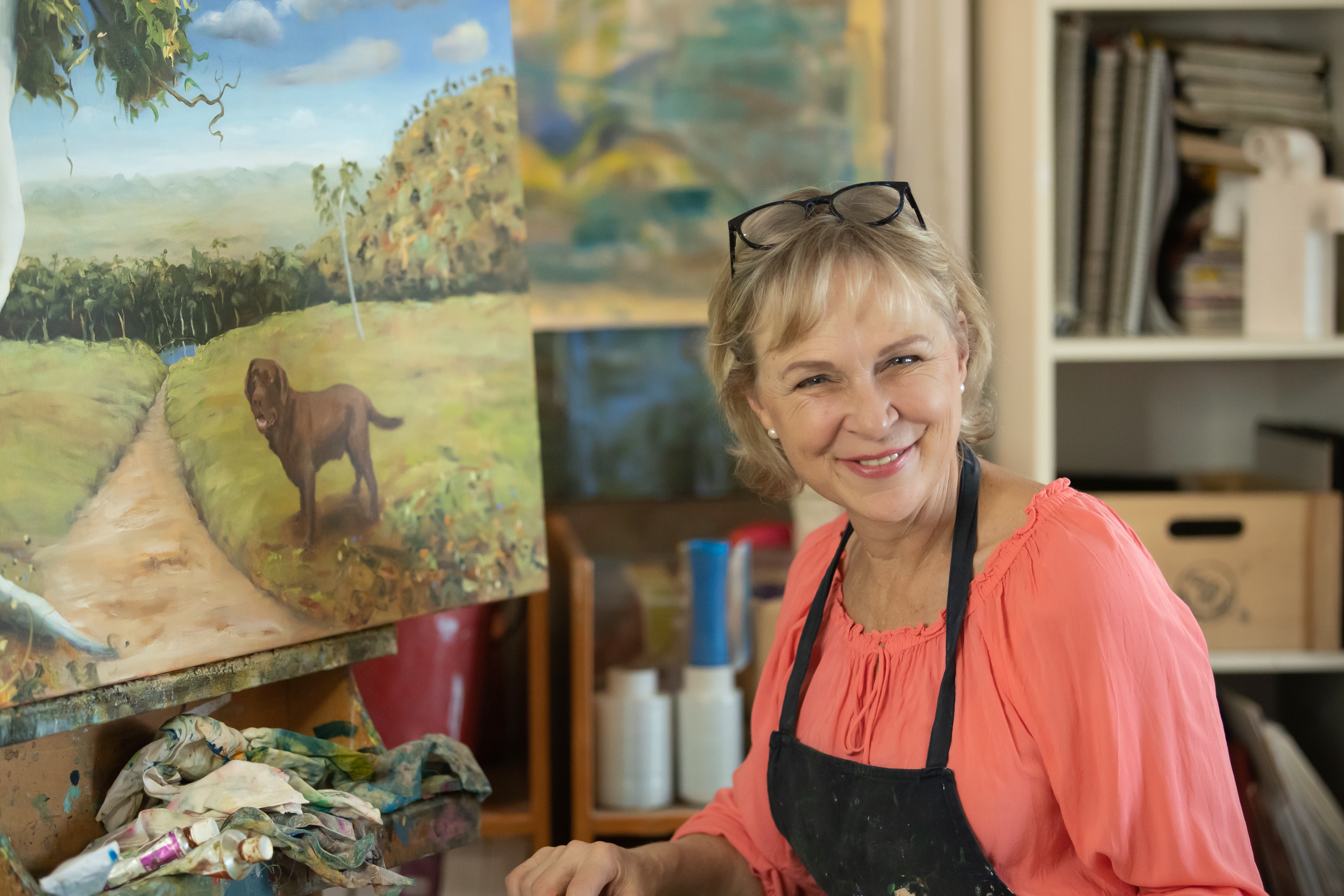 You can download the MATERIALS LIST in the FREE open Module below.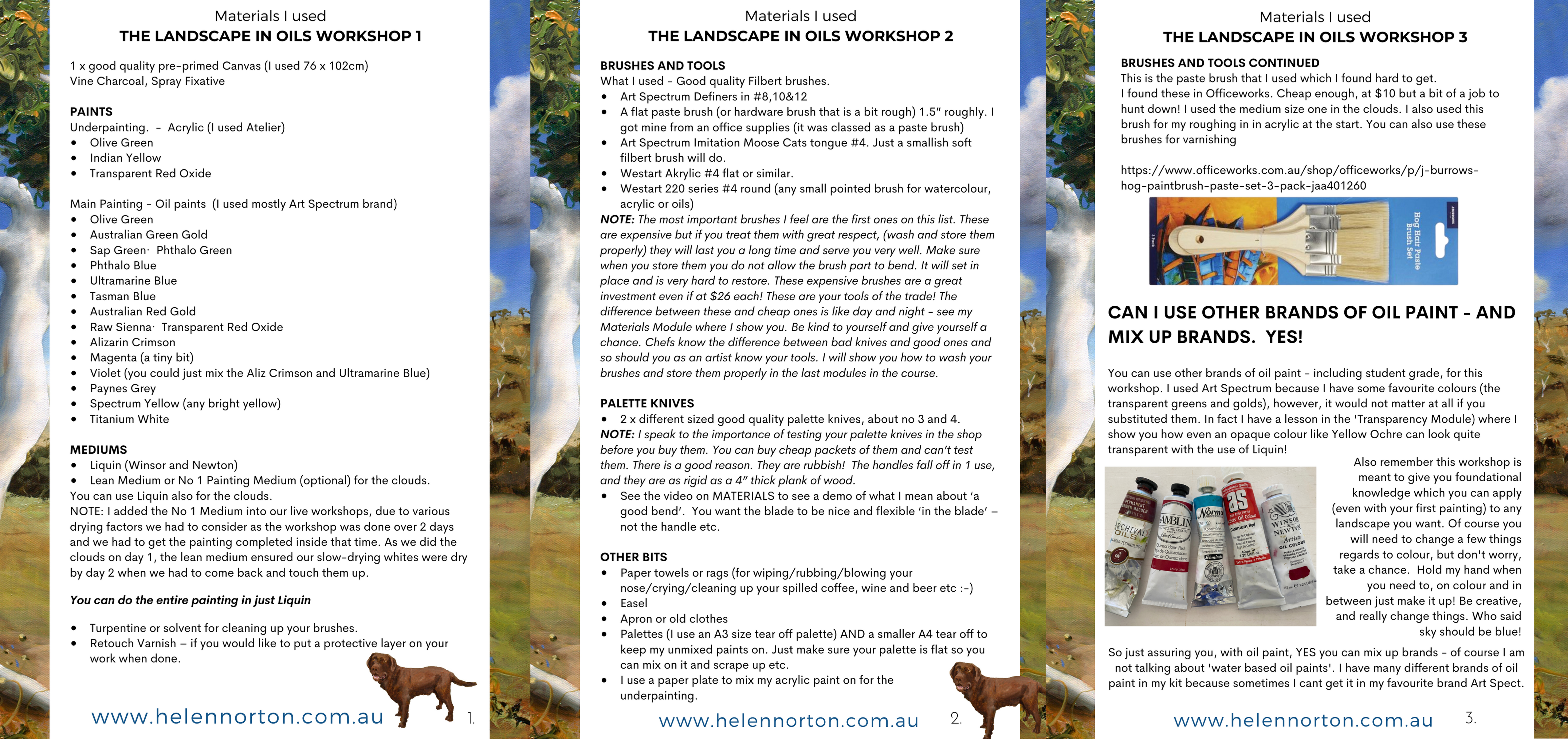 Take a look at all the content included! So much arty goodness for you. If you have always wanted to learn to paint in oils but have been a bit bamboozled as to what and how to do it, this is the course for you! I cover everything. You will fall in love with oil painting by the time you finish, and probably very early in the workshop. Its the most scrumptuous delicious flexible medium artists can engage with. Let me show you why I am so enthusiastic about it.
Course Curriculum
BONUS MODULES - STUDIO SET UP
Available in days
days after you enroll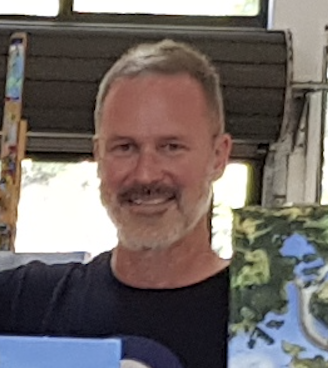 Helens confidence is infectious, her workshop is interactive and fun. I have enjoyed the workshop so much. Helen is a wonderful person and a great teacher! What I also liked about the workshop was spending time with like minded people who were all very different. Helen really installs confidence in everyone. For anyone feeling nervous about doing the workshop - that was me, and now I am so glad I didn't get in the way of myself. I had so much fun, so step out of your comfort zone!
Your Instructor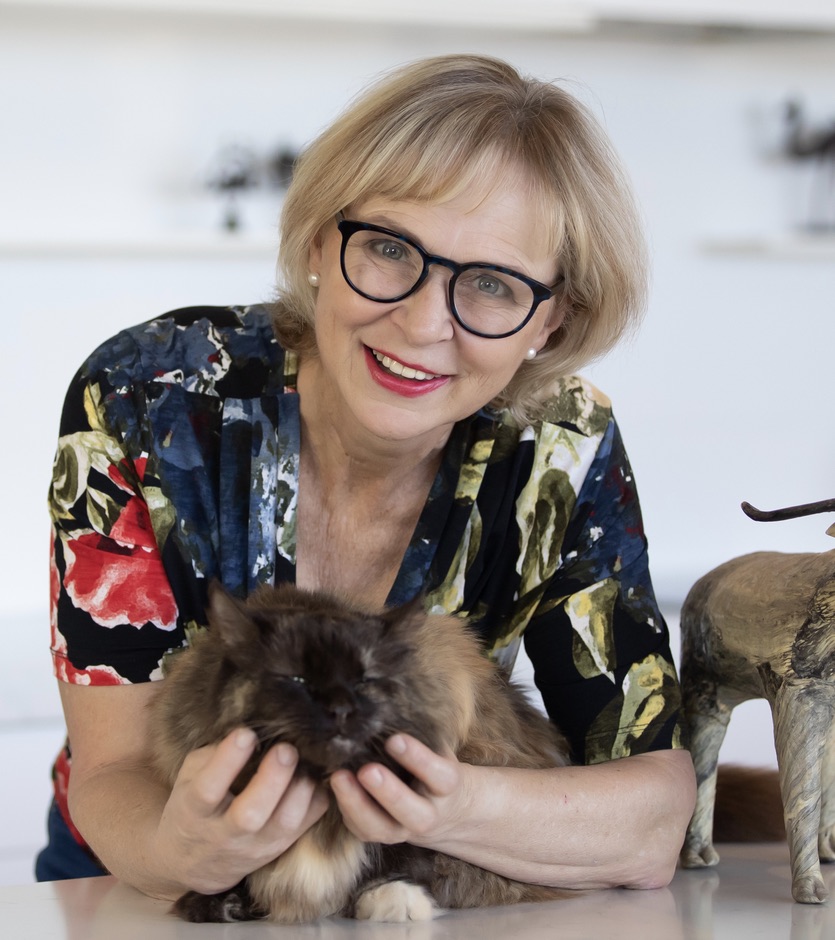 Hi, I'm Helen Norton. I am currently live in sunny Perth in West Australia. I have over three decades of a very succesful exhibiting art career behind me - including over sixty solo exhibitions under my belt. In recent years I felt a very strong urge to come out of my lovely solitude in the studio, and do something for other artists instead of just my clients who have provided me with incredible patronage to date. I still love painting, and in fact taking a dive into teaching has created a deeper love of it. However, I now feel its time to hand over the skills!
After running some very succesful live workshops, in my home state, I discovered I could make the transition from artist to teacher, which is not as easy as one would think! What I wanted was to share as far and wide as I could, not just with the locals, so thanks to technology, I can welcome you to my online courses.
I hope you will join me on a wonderful creative adventure where I can share my experience and years of learning through various courses on different aspects of the art vocation. My mission is to save you tons of time working everything out like I had to through so much trial and error, although what artists does not like exploring? I will give you my very best in tips, techniques and insights into how to paint, and also help, with how to move past blocks, and fears, and especially to build confidence. Mostly this will be pragmatic and step by step demonstration of different processes of creating artworks. I can't wait for you to pull up your easel alongside me in the studio so we can paint together!

See my full CV at this link Full CV at https://www.helennorton.com.au/pages/artists-cv


Frequently Asked Questions
How long do I have access to the course?
How does lifetime access sound? After enrolling, you have unlimited access to this course for as long as you like - across any and all devices you own.
When does the course start and finish?
Once the course opens, it never ends! It is a completely self-paced online course - you decide when you start and when you finish.
What level of art experience is the course made for?
This course is suitable for anyone from a beginner who has never painted to an advanced artist. Many of my students in my live workshops would come in at these opposite extremes and yet they all gained much from the workshops. Even I love doing other artist's workshops, despite my experience. It is so refreshing and always brings some new exciting inspiration.
Do I need high speed internet for the course?
Yes, you will need a good internet connection to view or download the video content for this course. If you have slower speeds you can still watch but may have some lagging.
Is there an online community I can join for this course?
Yes, I have a very special private Facebook group for my students set up. I will provide details of how to submit a request to join the Helen Norton Art Lessons Facebook Community within the course. The community offers a wonderful opportunity to share and connect with other like-minded folks. You can share your inspired paintings, with us all! You can also use the hashtag #helennortonartclasses on Instagram and other social media such as FB, Pinterest and Twitter. There is also a comments section in each module and lesson where you can share your in-progress work and questions about the workshop, lessons or classes.
Do I need to use the materials outlined in this course?
You do need to use a few acrylic colours and most certainly oil paints for this workshop. I suggest you stick to most of the colours, especially for the sky. My list is just a suggestion and it is based on what I use in the workshop, so its up to you but the results may vary if you change some of the main colours. On brushes, you do need to get the type of brush I have listed to get the desired results. If you are just giving painting a whirl and would prefer not to spend too much, you can most certainly use student grade everything to have a go. You will always get far better results with artist-grade materials and from my view, as the painter, better brushes make all the difference. Using crappy brushes can make you feel like a complete failure on some processes and yet in others (such as crazy abstract work) they are a winner! In this workshop, better brushes will really help your process. What I mean is that your brushes 'stay together' when you put them in the paint and don't go awol on your (the fronds don't do what they are meant to do - i.e work at YOUR direction not theirs! :-)
What is your refund policy?
Once you are enrolled in a course I am unable to offer a refund as you have full access to all the content upon paying. If you have any concerns prior to enrolling please reach out to me so I can give you more information if needed to help you decide on committing 🙂
20% DISCOUNT CODE

If you have come to this page and the 20% discount is not showing below in the price - you can enter LANDSCAPE20 where it asks for your coupon at the checkout and it will be deducted.
NOTE - the payment plan has already had the price reduced. It is a little more expensive overall to pay it off (due to interest), but it may still be a good way to go!